November 15, 2023
Is Salt Bad for Your Driveway?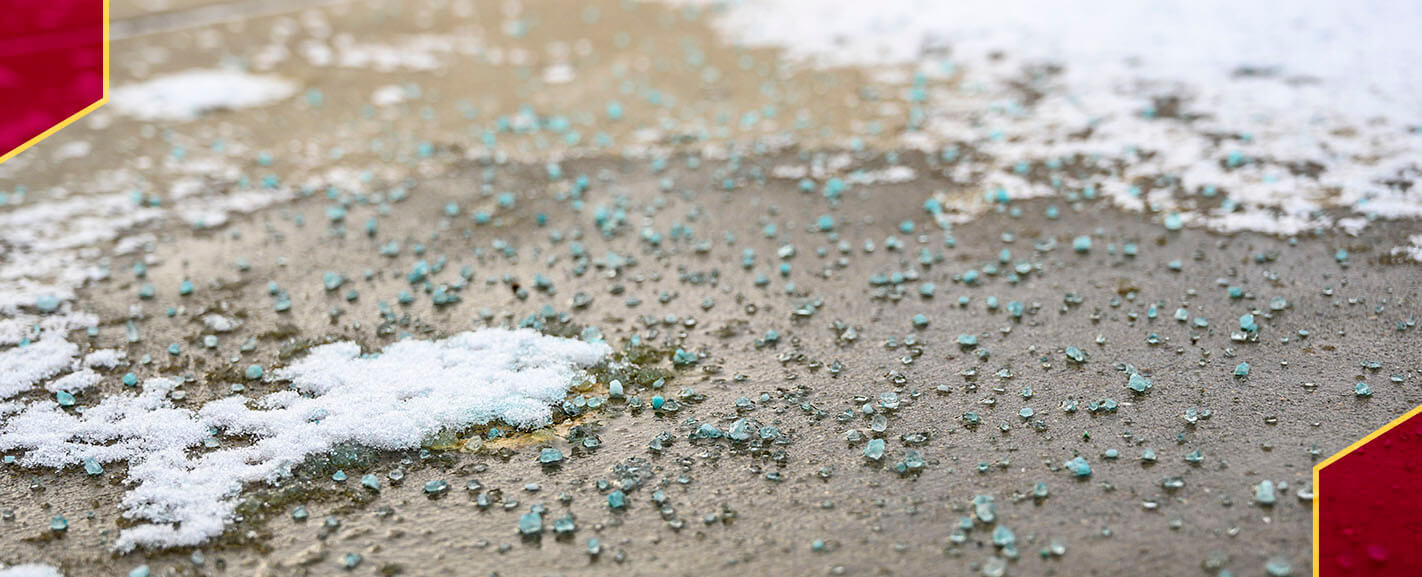 Come winter, keeping your driveway and other paths around your property free of snow and ice is likely a high priority. If you're like most homeowners, you probably use salt as your main deicing agent in the cold-weather months. But did you know that salt is bad for driveways?
While the effects of salt are more severe on concrete driveways, salt can still be damaging to asphalt driveways. Therefore, it's important to understand how salt is bad for your driveway and consider different kinds of ice melt for concrete and asphalt.
The Effects of Salt on Concrete and Asphalt Driveways
Rock salt is a commonly used deicing agent that is applied to driveways during winter when temperatures drop below freezing point. Snow and ice undergo freeze-thaw cycles that impact rock salt's snow-melt limit. This is the temperature limit for snow to melt effectively — above 32 degrees Fahrenheit.
Concrete is inherently penetrable, as it's covered with numerous tiny holes that absorb water. When snow and ice melt in winter, they seep into the concrete paving until it is drenched. The freeze-thaw cycle causes the water to freeze and then melt again as the temperature rises, resulting in it pushing up and outward as it contracts and expands. When this happens, the surface endures minute cracks called spalling. These cracks make it easier for water to enter, and the process repeats, creating larger cracks over time.
The hygroscopic nature of rock salt means it draws water, making it more absorbent. It can hold larger volumes of water within the concrete paving. This poses a bigger problem for homeowners with concrete paving since it can deteriorate quickly. The inability to contract and expand makes concrete less yielding. It's vulnerable to cracking and spalling, absorbing and retaining water at a higher rate.
Asphalt driveways experience similar effects of the freeze-thaw cycle, where frozen and thawed snow and ice create cracks in the surface. However, rock salt needs the asphalt to be flawed and split to penetrate into the subsurface to cause damage. The material accommodates contraction and expansion, making it more flexible than concrete. It is less prone to damage from extreme temperatures and cracking from surface movement, but it can happen, and that's when salt can be harmful.
Ultimately, you can use salt on asphalt and concrete driveways, and doing so is an effective deicing method that has been used for years. However, it can be equally harmful when used consistently over time, so it may be best to consider other deicing techniques for your home, too.
The Best Salt Alternatives for Asphalt and Concrete Driveways
No matter the type of driveway you have, you may prefer to use deicing methods other than salt during winter. As we just described, salt can have negative impacts on concrete and asphalt, and many ice melt alternatives exist if you'd prefer to use a different product to keep your driveway safe to use in cold weather.
Still, it's important to note that these methods come with their own downsides. Some chemical substances are effective but have corrosive properties that will damage concrete and asphalt. Non-chemical alternatives can help combat ice and snow but may require more time and effort to apply. Note that nearly all deicing methods can be toxic to pets and children, so always keep this in mind when removing ice and snow in the winter.
You may be interested in using salt sparingly and then pairing it with an ice melt alternative on this list to experience the benefits of both. Here are some of the best ice melts for concrete and asphalt:
1. Potassium Chloride
Potassium chloride is a great ice melt option you can apply manually by pushing a walker to distribute the chemical across the driveway. It is most effective on concrete surfaces like driveways and sidewalks in temperatures that drop down to 20 degrees Fahrenheit. Potassium chloride does not harm your plants, which is another significant benefit.
2. Shoveling, Plowing, or Snow Blowing
Traditional methods like shoveling, plowing or snowblowing are effective for clearing snow and ice, but they can take considerable time and effort. Additionally, you'll need the necessary equipment to do each technique correctly. Still, investing in any of these equipment pieces is beneficial as you can store and use them for many years.
3. Snow-Melting Mats
Snow-melting mats provide a clear pathway for vehicles to access the driveway and garage by heating up and melting snow and ice where you place them. Then, you can easily roll them up and store them when winter is over. If you're interested in the idea of a heated driveway, investing in snow-melting mats instead is a much more cost-effective and timely option, as you otherwise have to replace your entire driveway.
4. Sand and Cat Litter
While sand and cat litter aren't ice melt agents, they can help manage traction and minimize the effects of snow and ice when you use either as an additive to your current snow defense system. Note that you'll be left with mud to clean after using sand, so you should use it moderately to avoid several potentially slippery mud puddles.
5. Vinegar
Because vinegar contains citric acid, it can melt ice. This approach takes a few applications, so it may be best for small parts of your driveway, such as around your car or by the entryways to your home. Many people use vinegar as a backup when other deicing methods aren't available, so consider keeping a bottle of vinegar on hand during winter just in case.
Rely on CMI Paving for Quality Driveway Services
CMI Paving is one of the leading asphalt driveway companies in South Central Pennsylvania. We provide residential and commercial paving removal, repairs and replacement to keep your driveway in optimal condition. Choosing to work with us means choosing quality service and materials for the best job delivery.
Whether you're concerned about a crack in your driveway leading into the colder months or you want to pave your driveway before winter arrives, we're here to help. Explore our service areas in Central Pennsylvania to see how we can meet your needs. Ready to discuss your asphalt paving needs? Reach out to us through our estimate request form, and our team will get back to you promptly to discuss your project requirements.