What's the Best Time to Pave Your Driveway in PA?
Paving your driveway is one of the best things you can do to add value and curb appeal to your home. Laying asphalt is affordable compared to concrete, and it is much more durable and attractive than a simple gravel driveway. As a homeowner in Pennsylvania, you know how volatile the weather can be and how crucial it is to have a reliable driveway. But what is the best time of year to pave a driveway in Pennsylvania?
There are many factors that go into when you can pave a driveway. You want to choose the right time to ensure a successful project. In order to know the best time to pave your driveway, you need to understand how the seasons and weather affect the paving process.
View More Asphalt Driveway Resources

When to Get Your Driveway Paved
There are several aspects you should consider when planning to repave your driveway. Some of these include the temperature outside, the season of the year and even the type of weather on the day of the project. Though asphalt is an affordable paving option compared to concrete, pouring it can be tricky. You want to make sure your new asphalt driveway gets the treatment it deserves.
What's the Best Temperature for Driveway Paving?
Temperature makes a difference when it comes to paving or repaving your driveway. A professional contractor will be laying the asphalt hot, and they'll have to maintain that temperature for a steady and even pour. The outside temperature will affect the temperature of the asphalt as it cools and cures. For this reason, you don't want the weather to be too cold or too hot. A drastic swing in either direction could result in an unsuccessful, uneven pour.
What's the Best Season in Pennsylvania for Asphalt Paving?
Is there a best time of year to pave a driveway in the Northeast? As an inhabitant of this area of the United States, you know the seasons are unpredictable and often extreme. Weather can change rapidly and drastically. For this reason, many asphalt contractors prefer to pave driveways in the spring or summer.
Late spring and early summer both have a higher chance of hitting 70 degrees on a consistent basis. On the other hand, late summer can get quite hot, which can cause the asphalt to overheat and become loose. It's possible to pave in the winter, but ice and freezing temperatures make it difficult. You could find success in autumn, but cold nights may cause the asphalt to cure poorly. Accordingly, late spring or early summer are usually the best times to pave your driveway.
Best Weather to Pave Your Driveway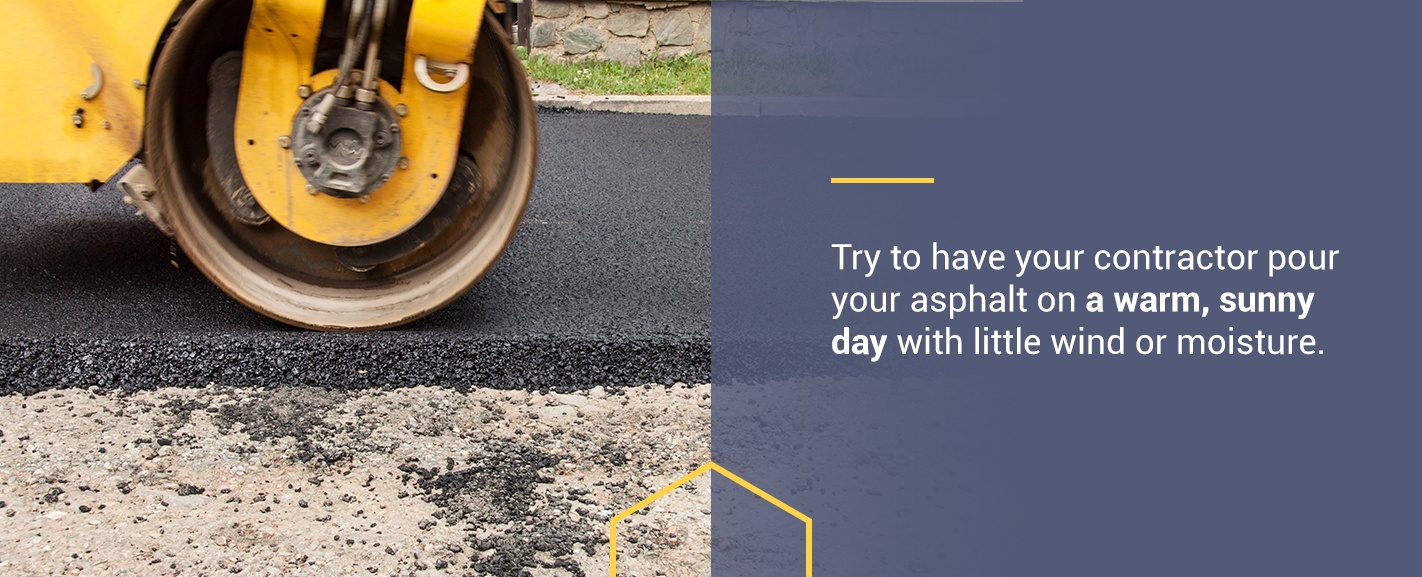 There are other weather-related factors that contribute to the best time to repave your driveway. While your thermometer may read 70 degrees, you also have to consider the wind and the ground. Wind can reduce the temperature of the fresh asphalt and affect how it pours and cures. If the ground is wet or cold, the asphalt could cure unevenly, leading to potholes or cracks.
Other Factors to Consider
Clearly, knowing the best time of year to asphalt a driveway is crucial. In addition to timing, there are a few things to think about when planning to repave your driveway. Remember to consider the following:
How deep will your topcoat be? Thicker topcoats retain heat longer. This means you can pour in slightly colder temperatures if your topcoat is going to be on the thicker side.
How many square feet of asphalt do you need? If rain is on the horizon or cold temperatures are approaching, square footage matters.
Will you hire a local paving company? When working with professionals, you should consider hiring a local paving company. Local companies understand your area's unique weather patterns. They can offer valuable advice and services to help facilitate a successful pour.
Contact CMI Paving for Your Driveway Installation
Do you need help with your residential paving project? CMI Paving is your local answer for your asphalt needs. We have been in business in South-Central Pennsylvania since 1985, serving the areas of Harrisburg, Cumberland County, Dauphin County, Perry County and York County. If you want to know the best time of year to pave your driveway in Central Pennsylvania, we are the ones to call.
Whether you need a driveway drainage solution, want to repair your driveway or remove and replace it, CMI Paving is here to help. Give us a call at 717-774-6565 or schedule an estimate online today.
View More Asphalt Driveway Resources