What Width Should Your Driveway Be?
What Width Should Your Driveway Be?
Correctly installing a driveway increases your property value and makes your driveway more convenient. As you get your driveway or parking lot repaved, you'll want to consider the standard driveway width and your property's specific needs to reduce your risk of damage as a passenger enters or exits a vehicle. Keep the following tips in mind as you figure out your driveway's ideal width.
View More Asphalt Driveway Resources

Determining Your Driveway Width
As you figure out how wide your driveway should be, remember that your new driveway must follow local and state regulations. A professional asphalt paving contractor can help you determine the right size for the place where you'll park your car. You can follow these tips to get a general idea of how wide you want to make your new driveway.
Use your garage as a reference point: You can make your driveway the same width as your garage so you'll have plenty of space to park your vehicle and get out comfortably.
Examine the area around the driveway: Open your car door and see if it touches a nearby wall or structure. You may want to make your new driveway wider to prevent potential damage.
Study traffic patterns: Before figuring out how wide to make your driveway, look at the street in front of your house. You can drive safely out of the driveway if you live in a development or on a side street. On the other hand, you might want to create a turnaround area if you live on a major road.
Talk to a professional: As you restructure your driveway, you'll need to follow specific regulations. A local professional will consider your lifestyle needs and help you comply with the guidelines in your area.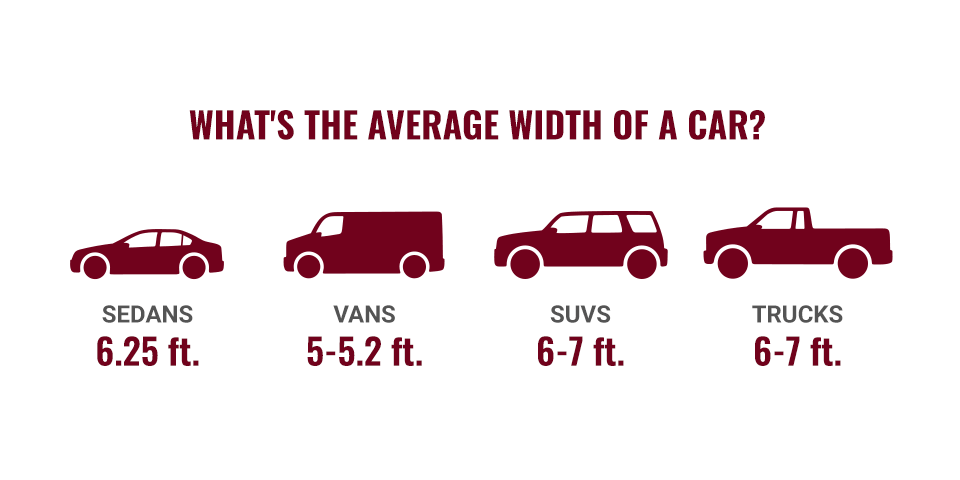 What's the Average Width of a Car?
A car's width varies depending on its make, model and year. You can find out your car's width by checking its specs on the car company's website. Explore these types of vehicles and their average dimensions.
How Wide Should Parking Spaces Be?
Commercial parking lots have specific guidelines for their spaces' widths. Your facility's parking lot is the first impression your customers have of your business. As a result, you'll need to provide a pleasant experience for everyone. Even though most spaces are 8.5 to 9 feet wide, you also have to include accessible areas for drivers and passengers with disabilities.
The number of spaces you need depends on your facility's size and how many people park there at once. Besides standard parking spaces, accessible parking spaces make it easier for people with disabilities to park close to your front door. According to ADA standards, each accessible parking space must be at least 8 feet wide for cars and 11 feet wide for vans.
How Wide Is a Typical Driveway?
The average driveway width provides enough space for one vehicle to park safely on your property. As you consider single-car driveway dimensions, think about your car's size and any landscaping you have around your property.
You'll want to have enough space to avoid parking on the edges of your driveway, or you might cause deterioration and cracks in the asphalt. The driveway should also be wide enough to give you space to get out of your car instead of hitting your plants or getting dirt on your shoes.
How Wide Is a Double-Car Driveway?
A two-car driveway is wide enough to provide space for two vehicles to park on your driveway. As you consider your double-driveway width, keep in mind that you'll want to have enough space between cars to open your door safely and comfortably. Consider the size of your vehicles and the existing landscaping around your driveway to know how wide you can make your double-car driveway.
What Is a Three-Car Driveway Width?
A triple-car driveway provides enough space for three vehicles to park safely on your driveway. Though these can be rather large, you'll want to allow enough space for you to walk around each vehicle conveniently. Think about what equipment you take out of your garage and what could damage your cars. Give your three-car driveway plenty of room for you to park your vehicles and freely move equipment around.
How Wide Should Your Driveway Be?
When deciding on a driveway width, you should keep the following factors in mind.
The number of cars your family has: Consider how many cars you currently have parked around your home. It's also helpful to think about how many cars you'd like to have in the future. You may have young children at home now, but they might be getting cars of their own in the next five or 10 years. Plan for your driveway to last you at least a decade so it can suit your lifestyle over time.
The size of the cars: It's also helpful to know what type of cars you have parked around your home. You may have a minivan for carpooling friends or storing supplies, but over time, you may want to get a luxury sports car or a fuel-efficient hatchback for commuting to work. Either way, plan for your driveway to last at least a decade.
Your family's specific needs: You may have loved ones with disabilities who need broad, level surfaces for their wheelchairs or walkers. It's also best to have an even surface for strollers.
The surrounding landscaping: Your driveway should have plenty of room to park and maneuver your car without damaging the paving or any part of your lawn near the driveway. You should also be able to enter or exit your vehicle without getting scraped by a bush or stepping onto the grass.
Your driveway's purpose: Besides parking your car, your driveway may serve other uses for your lifestyle. As you bring in groceries from the car or carry heavy equipment, you should be able to walk comfortably around your vehicles without damaging them. You may also want to install a wide driveway to make it a front yard entertainment space.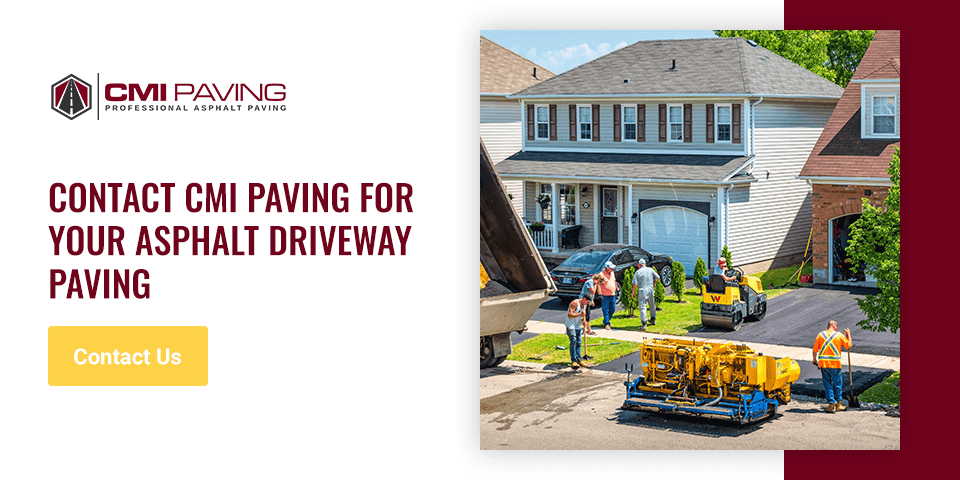 Contact CMI Paving for Your Asphalt Driveway Paving
CMI Paving is the expert in consulting on the width of your asphalt driveway or parking lot. As a company in central Pennsylvania, we're familiar with local and state regulations and will help you find the best design for your driveway. We'll help you navigate the perfect driveway for your specific situation, whether you need more space for the cars that visit your business or want to enhance your home's curb appeal. Contact us online or call 717-714-3198 to schedule an estimate.
View More Asphalt Driveway Resources